August 6th, 2015
Remember yesterday when I felt fantastic? Back when I'd crushed chemo?
Because I am such a winner, Chris and I toddled off to the Art Institute on our Divvy Bikes. He's never been there, and it's one of the most amazing museums in the world. And even though all the doctors say to make sure you stay ahead of the nausea and take the meds as soon as you feel it, we leave the meds behind. I'm not chemo's bitch. Chemo is my bitch. Chemo can suck it.
Here's a picture of me and Chris in front of the Chagall Windows.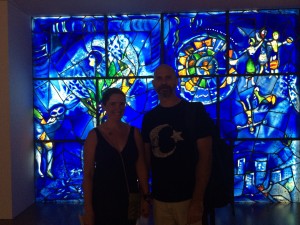 So we're wandering around the Impressionism section, and I'm thinking about writing. The amazing thing about all of these paintings is the voice of the painter. These paintings all took talent, skill, and practice, but the thing that got them in this museum is their unique voice. This is true of writing, too. It's what gets a book published.
I'm somewhere near the water lilies and haystacks when a wave of nausea hits me. I tell Chris, and we realize we don't have any medicine. "Do you want me to ride back and get it?"
No. Jesus. Don't leave me here. If I throw up in the Monet water lilies, that Finnish couple will eviscerate me. "Let's just sit for a minute." So we move on, sit and feign interest in the Seurat painting, A Sunday Afternoon on the Island of La Grande Jatte. Chris is watching me.
"Do you want to leave?" Chris is here to take care of me, after all. Now's his chance. The attention feels heavy.
"No. I just need a minute." We sit, then proceed through the armor, the paperweights, and the miniature rooms. I'm exhausted, truly, and also astonished. Those miniature rooms…what kind of person was Mrs. Thorn to have made so many exquisite dollhouse rooms?
I press on.
I need to sit.
Chris wants to know if I need to take a taxi home or if I want to take the bikes. Because a taxi is his idea and not my idea, I choose bikes.
I'd joked with him earlier in the week about this stubbornness. Whenever he suggests something, I say no. Then I wait fifteen minutes, long enough for it to be my idea, and then say yes.
His reaction to this had been: "Do you want the D?"
I'd laughed. (If you don't know what the "D" is: He's a man. Think about it. All men can wait fifteen minutes for this, even with stubborn wives.)
Anyway. We bike to the hotel. And while the bike ride to the museum was a joy, the ride to the hotel is a slog.
All I do that night is lie on the bed and listen to a book on tape with my eyes closed. I can't do anything else. I smell the chemo seeping out of my pores, warning me to pay attention. 
test Filed under
Stem cell transplant for MS
| Tags:
chemo
,
Chicago
,
devics
,
Dr. Burt
,
HSCT
,
MS
,
stem cell transplant
|
Comments (14)