August 20th, 2015
The problem with dying your hair purple right before you go bald is that it leaves purple stains on your scalp. I look like someone chopped at my skull with an axe.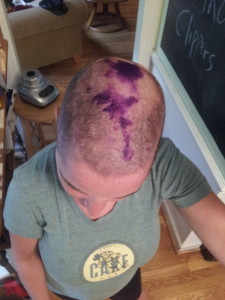 This is not the look I am going for.  I shower and wash my hair with soap. The purple spots stay, but I scrub a bald patch on the top of my head. This is not the look I'm going for either.
My intention was to embrace the baldness. I'm gonna rock out with my cock out. But this is not how I feel. I have male-pattern baldness with spots. I. Do. Not. Want. I feel sorry for myself.
I had a friend in college, Bob; he's a drag queen now, I think. I lived with him when I shaved my head, and he wanted to do a photo shoot with me in a pink frilly dress with a monkey tail and monkey gloves. We had captions: Monkey Girl eats a sandwich; Monkey Girl goes to the beach. I am brushing my teeth when I think: Monkey Girl is brushing her teeth.
And, I have a problem. I'm out of wine. Stephanie is coming over tonight, and we usually drink wine while our husbands have band practice. The AirSupply song is looping in my brain: "I'm all out of wine, I'm so lost without you."
I explain to Chris, and he offers to go. But I can't hide for the six months on the off chance that I will see an acquaintance.
I only buy my wine at Ridgewood Wine and Beer, on principle, because I like them. They're nice guys, maybe misfits, who wanted to start a wine store. I know that Patrick's dog died and that Ryan used to sell wine to Stephanie out of the trunk of his car. But, I just want wine. I wish I was more of a bitch so nobody would be a nice acquaintance. I don't want to explain.
This is not a moment when I expected that courage would be required. I need to nut up. Monkey Girl will go to the wine store, the PTA meeting, the climbing gym, soccer practice, and the grocery store. Monkey Girl will be okay.
I go. It's fine. They're going to save my favorite rosé for me for when I come back in October. Rosé is delicious, but it's been giving me a headache because my immune system is haywire. But maybe after all of this, my immune system will not think that a rosé the enemy.
I'm making every interaction exhausting because I am building it up in my head. Every person I see either knows what's going on, or they don't know. It doesn't matter. What I need to understand is this: they just see me. They see Karen.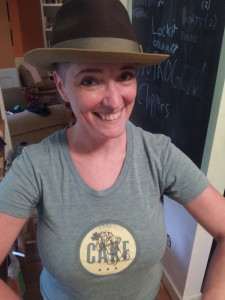 Monkey Girl is wearing a hat.
test Filed under
Stem cell transplant for MS
| Tags:
chemo
,
Chicago
,
devics
,
hair loss
,
HSCT
,
MS
,
stem cell transplant
|
Comments (24)