September 14th, 2015
Karen wants you to know that she can't open her eyes without puking.
The excellent Medical Professionals of Northwestern Memorial Hospital want you to know that they have deployed all reasonable countermeasures, but this feeling is, more-or-less, temporarily normal.
I want you to know that Karen is kicking ass.  She is hopeful, determined and heroic.   Also very, very sleepy, which helps with the open eyes problem.
(shhhhhhhhhhhhhhh…)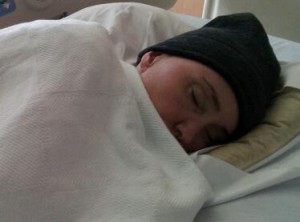 test Filed under
Stem cell transplant for MS
| Tags:
chemo
,
MS
|
Comments (22)