July 27th, 2015
T minus 6 days
The next day we take the Hiawatha train into Chicago from Racine. I take a Xanax to take the edge off, but my edges are so jagged that it doesn't do anything. I'm a porcupine.
Dr. Burt asks me the same questions as yesterday, and this time I tell him everything. He says, "You don't have an enhancing lesion."
This means I am not in the trial. I think to myself that it's okay. I was okay before I came. I should know better than this. Why did I think this would work?
"I gotta tell you, your cervical spine is moth-eaten. You're headed for disaster."
I wonder if he is intentionally trying to be cruel. Doctors are mean.
He puts his head in his hands and rubs his face. He lifts his head and says, "I'm going to treat you out of compassionate care."
I know what this means. He'll treat me, but I won't be a part of the trial. This is what they do with dying cancer patients who want to try a new miracle cancer drug that hasn't been approved by the FDA. I'm pretty sure I'm supposed to be happy, but I feel broken. I tell him thank you, and we leave. I have no idea how I get to the lobby. I suspect that Heather led me.
My flight home is delayed by four hours, and I play candy crush the whole time.
When I get home, my husband is overjoyed, but I'm having trouble feeling happy.
For some reason, I keep thinking about the honeymooner ladders. Let me explain this a little bit. I'm a rock climber — I've been one for over 25 years. I have a gang of friends that I go climbing with — and we take big trips and little trips, and we often go to West Virginia to climb at the New River Gorge.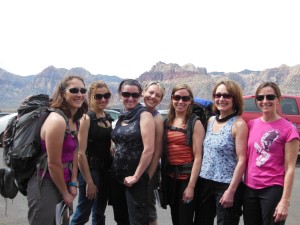 Here is  picture of some of the ladies in our crew. For your reference, Stephanie is the second from the right, and Krista is right behind me. This was last year at Red Rocks.
The approach to Endless Wall involves a 60-foot stretch of ladders called the Honeymooner Ladders: wooden ladders at the top of a canyon, orange cliffs all around, a river flowing and falcons flying way below you. This was the work of elves, for sure. You climb down the ladders to access the cliff faces, and at the end of the day, you climb up the ladders. Easy.
This was about two or three years ago when my leg had been getting weak when I got tired. When it gets weak, it's like the leg starts to fall asleep. First it falls asleep a little bit (20% gone), then more (50% gone), then more (80% gone). Eventually, it's like swinging a dead thing, and I use trekking poles to keep going.  And if I rest, it recovers. I kept the fact of my leg's weakness 5 miles away from me. I did not like it.
So, it's the end of the day, Krista, Stephanie and I decide to hike out. We have ice-cold beers waiting for us at the cars.  It's hot and muggy, poison ivy is everywhere, and we're a long way from the Honeymooner Ladders. When we get there, my leg is already 40% gone, but the ladders have never bothered me before. I don't want to inconvenience my friends. I decide to rest at the top.
Krista starts up first. I wait for her to get about 20 feet ahead of me before I start. I get about halfway up when my leg goes away. Gone. Stephanie calls up to me. "Everything all right?"
"My leg is dead."
"Oh." She says. There really isn't any more that she can say. I look down at her. She is looking up at me.
Panic makes my skin tingle and tears are pressing at my eyes. Going down makes no sense. I'm halfway.  My vision closes in, so all I see are the ladder rungs in front of me. What am I going to do? Focus. I figure I'll hold on really tight, and if my leg blows, I'll be able to catch myself with my arms.
There is not enough air in the air.
I go up one rung. Reset. Breathe. I'm over-gripping. I should relax my hands or they'll get too tired.
I go up another rung. I shake my hands out.
As long as I take this one rung at a time, I'm pretty sure I'll make it. And I do. Eventually, I make it.
When I get to the top, I'm trying not to cry. Krista touches my arm and says, "It's okay, you can cry if you want to."
So, I cry. Stephanie comes up and says, "Well, that was really scary."
She sees me crying.  "Want to watch me do my arm exercises?"
She makes her arms trace small circles then big circles, and she succeeds in making me giggle. I rest. We walk out. Later that night we eat pizza and drink beer.
That fear, though. It's the same as what I fear about MS. I reckon it's garden variety fear. We all feel it sometimes. The true thing is this: I can't keep MS 5 miles away from me anymore. It is closing in, and I need to pay attention.
test Filed under
Stem cell transplant for MS
| Tags:
Chicago
,
Dr. Burt
,
HSCT
,
MS
|
Comments (16)