July 31st, 2015
I leave for Chicago on Sunday.
So, I should get back to this journey. Fast forward to June. My insurance approves the set of preliminary tests to see if I am healthy enough for a stem cell transplant. They have not approved the transplant yet — and will wait to see how these tests go. Echocardiogram, EKG, blood tests galore (17 vials worth), a meeting with a psychologist. First I have Scott and Mark's wedding (LOVE WINS), then a Girl's Weekend of Evil (GWOE) with a group of girlfriends in Colorado. We're not very evil, unless lolling about, making delicious meals, and drinking wine is evil. Then we're top notch.
Here's a picture of us.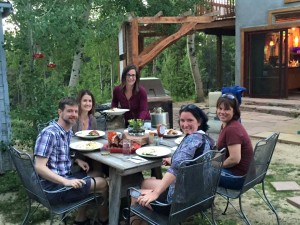 Then Chicago. I need to decide if I want company for Chicago. I only have one meeting with Dr. Burt. I think I can do everything else on my own, probably all of it. I ask my friend Nina if she thinks I should go with someone, and she says, "I'll go."
I tell her I'll think about it. This won't be a fun trip, and it seems like a lot to ask. I check in with Chris to see if he is willing to go, but first I say, "I don't really need you to, just that you'd be nice to have, but I can do this on my own. We could go to a fancy restaurant?"
Turns out, it would be complicated for him to go this time. Plus I said I don't need him. And he's going for the August and September dates. I wonder if I should go alone and treat this like a writing retreat?
Nina texts me out of the blue: "You know I like your company."
But what if I want to curl in a ball and just be alone? What if I get the opportunity to work on my book?
I talk to Joey about it. She tells me that going alone is a recipe for me being lonely and sad, and that I should stop being a dumbass.
So, I ask Nina to go. If Nina lived during the time of the Salem witch trials, she would have been burned at the stake. For sure. She's too smart for mere mortals. She has big ideas and she shares them, plus her hair comes straight from the sun: long, red, and curly. She's good company, though. I know this from long, lazy afternoons on a blanket in her yard, watching our children and her chickens, and solving the mysteries of the universe.
I book a flight for us. I don't need an extra ticket for my ghost of secondary progressive MS, although it still haunts me. It's bigger because it's feeding on my fear that insurance will say no.
Nina talks to me about calculus, the murmuration of starlings, neuroscience, and changing the way people learn. Like I said, she's good company, and my ghost and I listen and ask questions.
I'm pleased to show her that I know the way on the metro, but then we get lost and can't find it, and she has to figure out where to go. I still bumble getting us train tickets, but I get them. We get to the hotel, go out to eat, and I fall asleep by 9:00.
Nina walks me to my first appointment, meets me for lunch, and goes with me to see Dr. Burt.
I ask him about secondary progressive MS.
"Has somebody told you that you have secondary progressive MS?" Dr. Burt asks.
"No, but nobody's told me that I don't have it either."
"Why are you worrying about it?"
"Because I read in your paper that this doesn't work in people with secondary progressive MS. No one will say one way or the other whether or not they think I have it, and I fit the profile."
"Stand up. Let me look at you."
I stand up. He looks at me.
"You don't have secondary progressive MS," he says.
"How do you know?"
"If you did, that leg would be spastic."
"This leg gets spastic sometimes, like, when I put it in cold water."
He shakes his head and waves my worry away. My ghost is unfazed. It will take more wind than that to dissipate it.
In the lobby, Nina says I totally nailed that appointment and she hugs me. She says I seemed like a person to be taken seriously, and this pleases me. She walks me to the psychologist, who wants to know if I have a support system. Why, yes. Hell yes.
She asks me what the hardest thing I've ever had to go through is, and I draw a complete blank. I've got GWOE, climbing, a great job, wonderful friends, and a lovely family. I'm mostly the luckiest person in the world.
test Filed under
Stem cell transplant for MS
|
Comments (12)